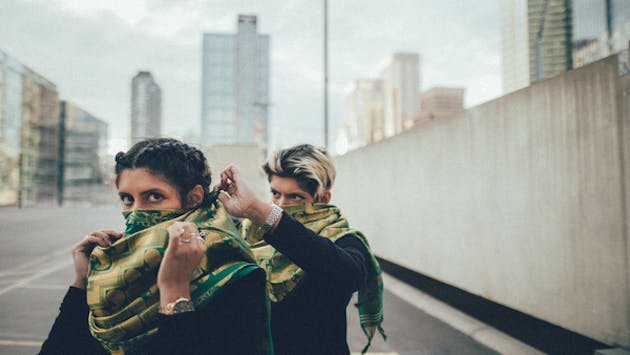 DN: What did day one of recording Age of Goonda look like - especially in comparison to day one of Trapistan?
CM: Day one of recording Age of the Goonda was pretty crazy, we were hyper focused, had everything ready to go and finished recording the project in 6 days at Echo Base Studio in Calgary, AB. The lead up to that was having all of our music friends put their ears on the demos and performing the tracks live the year leading up to the recording. Trapistan was recorded in our parent's basement, it was very amateur and unscheduled.
DN: During your first performances? Who's flow and style did you carry with you each the most on stage?
CM: Our first show was January 2018 and it was for a Calgary festival called "Big Winter Classic"; the funniest part about the set was that we included some tracks that we sing on and after the show we were like "let's never sing again". In terms of performative influence and the type of energy we wanted to bring to our show that definitely would be Freddie Gibbs, Run The Jewels, and Curren$y
DN: How did the connection with the two of you and Ishmael Butler come together? What sort of new doors have opened since joining Sub Pop?
CM: In June 2018 we played Sled Island in Calgary and we were playing before Ishmael at the same venue, but upstairs. We assumed there was no way he was going to catch our set and we were just excited to be on the same lineup as him. Turns out he caught the last 10 minutes of our set and told us it was dope and we were so stoked about that. Later that summer, when we dropped Trapistan he reached out again and when the video for "Pork & Leek" came out he hit us up and started talking Sub Pop. He's always been a really dope mentor and inspiration for us.
For our Alberta Spotlight Show in November 2018, the Sub Pop team came to check it out and that's when it all happened.
Being a part of the Sub Pop family has been really great and encouraging for a new Canadian act like us. We've become label mates with some of our lifelong faves (The Shins, Fleet Foxes, and Blitzen Trapper). And now we are planning some new projects with acts like Shabazz Palaces, and we are going on tour with Clipping in May!
____________________________________________________________________________
You can stream Age of the Goonda below, out now via Sub Pop Records.