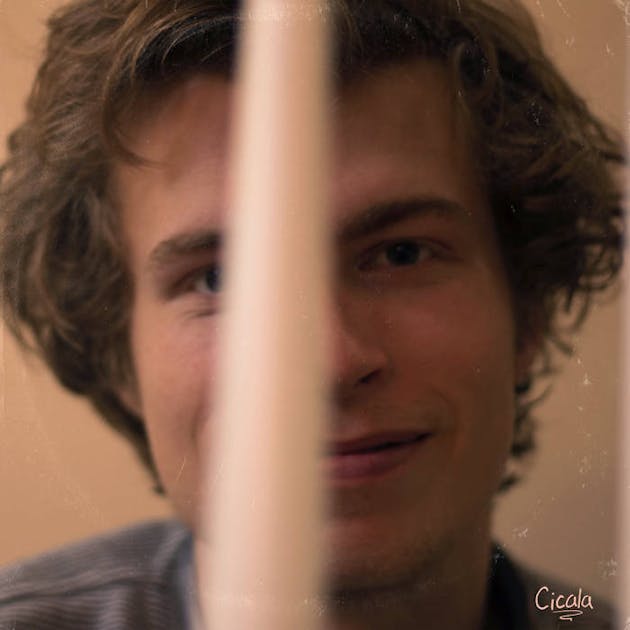 If you made two different musicians listen to Car Wheels On a Gravel Road and tasked them with internalizing Lucinda Williams' ashtray ballads and building that behemoth into their own musical lineage, you may receive from one participant: Saint Cloud, last year's stunning album from Waxahatchee, swiftly cemented into all-time great status. And from another you may get Cicala—the self-titled new album from Myrtle Beach, South Carolina band Cicala—an equally exciting entry into the (call it whatever you want) alt-country canon.
Led by eponymous frontperson Quinn Cicala, the nine-track offering opens with a wailing of pure, unmistakable loneliness on "Truck Stop." From there, throughout the album—and like most Cicala albums—themes of daydreaming, longing for requited connection, the Great impersonal American emptiness of the faceless roadside places that you have no specific memory attached to, and the relatable dread that life is a forward-marching being that can pass you by and convince you that you've wasted it all appear and reappear for diaristic consideration. Cicala boasts an impressive emphasis on changing dynamics from song to song—always a recipe for a memorable album. Consider "Will," tugged along by Cicala's strong and distinctive vocals—like an unvarnished but inviting porch, splinters and all—until about a minute in, the latch is unhooked and a woozy procession of bleary guitars stir the song to life. Contrast that with the "Intervention" opening guitar line dripping with suspicion, building up to be obliterated as Cicala's powerful bellow and accompanying harmonies let a piercing guitar solo barrel through the landscape.
Call them indebted to The Front Bottoms—albeit inhabiting far more open, breezy spaces than claustrophobic New Jersey. Say they sound a bit like Pinegrove—if they searched for answers via long-distance calls from the road with loved ones, as opposed to digging through the wisdom of books. The patience shown by Cicala & crew as they chew on the problems of young adulthood—and the comfort one learns in order to cope with the unresolved—is touched upon best on "Interstate," as Cicala digs deeper into the mantra "Not now, but maybe some day." As the albums add up, both from Cicala as a band, and Quinn Cicala as a solo artist, they chug forward toward being an indie rock touchpoint all of their own, and I know come December I'll still be recommending this raw and thoughtful album to friends.