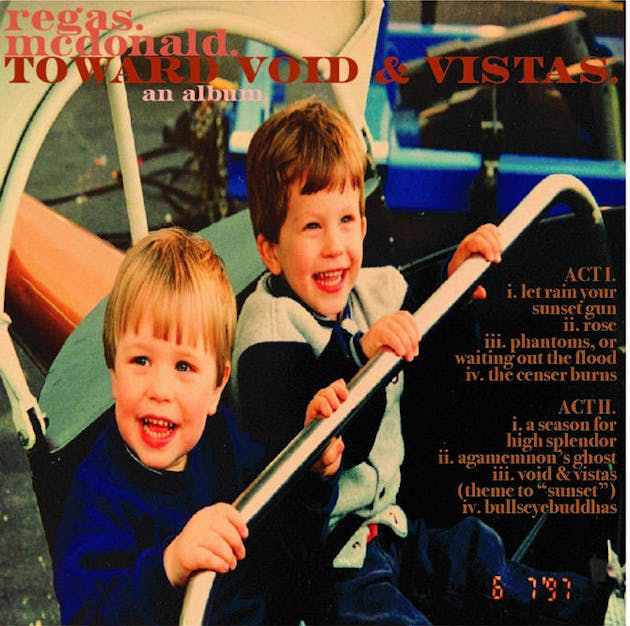 Northeast Ohio's Regas-McDonald is the project of two cousins, Sam Regas and Matt McDonald. The ambitious duo are schoolteachers by day, and experimental art rockers by night. Their new record, Toward Void & Vistas, is a jarring reminder to our younger selves that teachers absolutely have intriguing lives outside of the classroom. 
The eight track album is abound with drifting, airy, and assured instrumental endeavors — sounds that immediately transport the listener to a kaleidoscopic otherworld. It's a refreshing listen, with static melodies and distinct hooks taking center stage, and introspective lyrics following close behind. The most endearing aspect of this record is the pair's adept ability to consistently keep the listener enchanted and engaged throughout the record's entirety. Evocative of early Talking Heads material with its imagist poetry and surrealist language, it's an incredibly crisp sound that showcases dynamic range. Buzzy synths consume the narrative, and Regas and McDonald's commanding vocals keep our ears perked. 
This is the album for the listener that wants to make sense of the chaotic and sometimes daunting thoughts within their head. It's a delicate reminder of the beauty found within being human, complete with a whirling, cacophonic backdrop. Regas-McDonald's layering of sound is just the right amount of dense, with sweet melodies and lively arrangements balancing out the foundation. 
Lush and imaginative, the album never loses its sparkle — rather, its light continues to grow throughout the narrative. Regas-McDonald's Toward Void & Vistas will be available on streaming services on Friday, February 28th via Grumpy Records, but you can listen to the eight tracks below — exclusively on Double Negative.