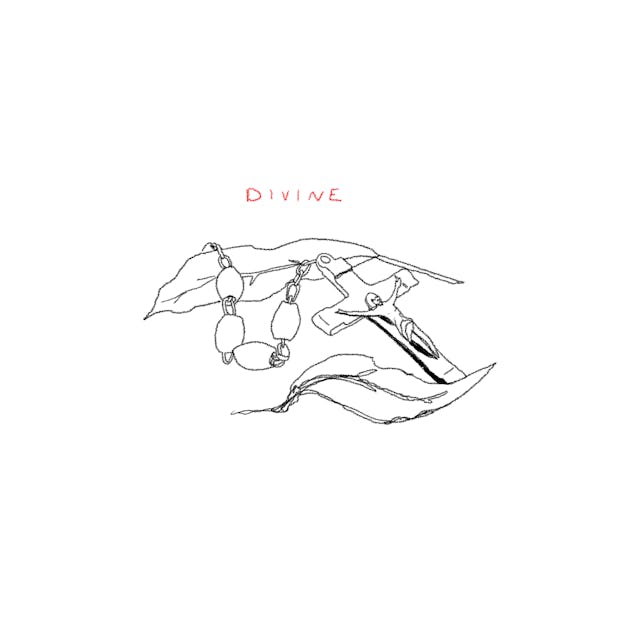 Making what they define as "non-binary bummer rap," Sashathem is forging their own path within hip-hop meshing blunt yet poetic lyrics with lo-fi grooves. From their base in Harrisonburg, VA—a college town with a small but sonically diverse DIY community—Sashathem has become a fixture within the scene.  
In spite of their bummer rap genre tag, Sashathem's "Divine" is anything but a downer. The second single off their upcoming record, Glass House, is an honest document of a relationship, spilling its contents for the listener with a tenderness and intimacy that give it a feeling of overwhelming love, delivered with a cadence like worship. The track is made to feel, as its name states, "Divine," filled with biblical references, but never religious per se. It draws on the imagery and ethos of the tradition to create the feeling of a story with immense scope—one that is necessary to hold the depth of feeling they speak of. Despite the heaviness all this could carry, "Divine" remains incredibly light. Sashathem has a style and flow to their lyrics that is casual, sometimes even conversational, even as they touch on serious topics. 
"Divine" sprawls out like a summer afternoon, feeling longer than its three-and-a-half-minute run time, but not at all to its detriment. Alongside the track on Bandcamp, there is a video for the track cut from clips of Hayao Miyazaki's film Spirited Away, drawing the airy, magical quality of the film's visuals into "Divine." The video provides a filter through which to listen to the track, filling it with a warmth and wonder that are not lost in just listening, but rather elevated by the film. 
Listen to "Divine", produced by Adam Sulkin, on Bandcamp below, or click through to check out the visuals. Follow Sashathem on Twitter, Instagram, and Facebook.