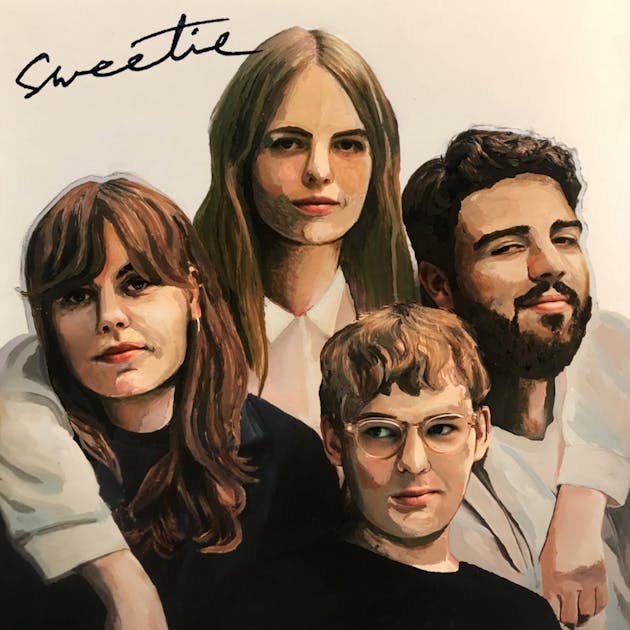 Factual gravity of their band name aside — Steve Buscemi's Dreamy Eyes offer up an incredibly well-rounded and stylistically woven debut.The 12 track LP builds upon a sundry of indie-pop pioneers and their best ideas to create an exceptionally polished sound right out of the gate with Sweetie. Based out of Stockholm, the quartet formed around the desire and drive of Siri Sjöberg, Tilde Hansen, Elias Mahfoud and Edvin Arleskär in 2016, with the ensemble quickly developing a following within the festival circuit in Scandinavia. 
Sweetie swiftly presents itself as a dream-pop chronicle in the wake of a new decade. Its high points showcase the shimmering earworms that brought together bands like St. Lucia — coupled with the vocal artfulness and pleasant fuzz that was carried out by the Cocteau Twins and the Pains of Being Pure at Heart at the pinnacle of their success.. Neither gloss nor grunge dominate the album throughout its runtime. Rather, the group works together to create an ever-enjoyable blend of sound and energy.
Album opener "Moon" begins with a melodic lead-in before the stage is torn open by the shred of its opening chords. A sense of serenity reestablishes itself on a guiding baseline for the opening lyrics of Hansen's mantra and the dreamlike bouncing cries of the songs chorus — as if the quartet is leading the charge of one's own journey to start anew. It showcases the rare instance in which excitement and peace coexist in a way that amplifies each emotion's core strength.
The sound decisions made by the band throughout the record compliment the spacious, bordering on ethereal, ideas communicated in the midst of each track. On the album's closer, "To Define is to Limit," star-like bells and rising vocal swells are peppered throughout the pensive track, ultimately wrapping the album with one last launch upward. This replacing the tense flutterings and heartbeat of the drums with a finale reminiscent of the burning gaze of guitars looking up at the stars like in "The Universe is Going to Catch You", off of The Antlers' lo-fi early recording In the Attic of the Universe.
On their debut, Steve Buscemi's Dreamy Eyes capture the essence of their youth and aspirations, made clear by their incredible cohesion as an ensemble and their commitment to lead their voices towards a concise and glistening sonic palette. Sweetie is a promising debut on the most literal sense of the word, inspiring hope for future records when the quarter feels poised to take on their next set of challenges, tackling larger ideas as they launch themselves into a chance to make an impact on the global indie-pop scene.
You can stream Sweetie on Bandcamp below.