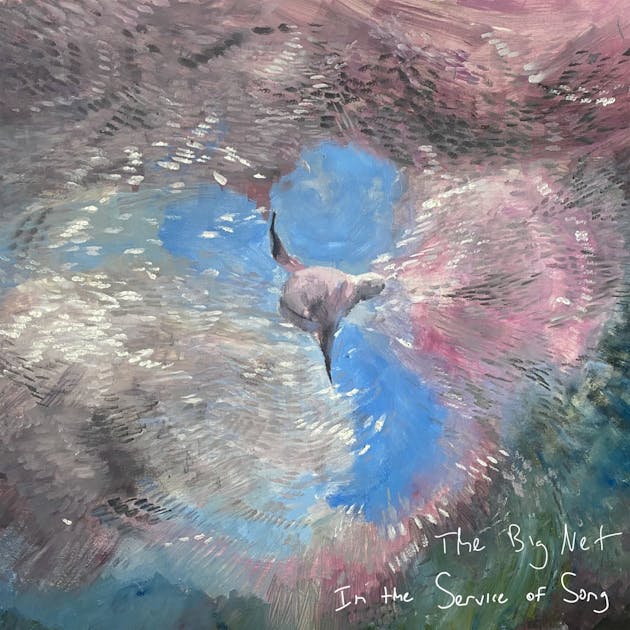 The lead single from their forthcoming album, In the Service of Song, New York band The Big Net's new song "Cowboy" lives up to its name.  The track sounds wide open, striking in how spacious it is even bound together by a pair of headphones.  Trotting along at a steady clip, the song moves by in a blur, clocking in just shy of 3 minutes and somehow feeling even shorter.  It's like staring out a car window, reading the signs along the highway, and catching one for just few seconds before it flies past and vanishes in the distance.
The instrumental is sparse, comprised only of drums, bass, and a guitar.  Each instrument occupies its own space, never stepping into the another's territory, and leaving plenty of room in between.  The vocals are hushed, understated in their delivery, but betray a sort of quiet determination in their delivery.  There's something implacably familiar to the whole sound, and yet the result is entirely its own.  Best I can describe it, it sounds like if Elliot Smith was in Big Thief.  
According to their Bandcamp page, The Big Net "exists to serve the song."  Having listened to "Cowboy," I think I see what they mean.  This track is airtight but leaves plenty of room to breathe, deceptively simple in its parts but impressive in the completeness of the whole.  It's like looking at a tiny jigsaw puzzle, only nine or ten pieces altogether, but each one of only clear, unbroken blue sky.  There's not all that much going on, but it's a lot harder than you'd think to pull it off, and pretty damn impressive when it's done.